ERS news articles
To Floss or not to Floss?
October 2016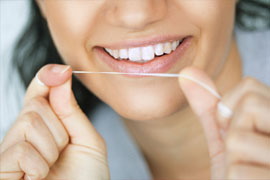 Have you seen the recent debate about flossing? Don't give up on it yet! Despite the controversy, flossing can significantly improve your oral hygiene by removing plaque between your teeth. Your toothbrush can't do all the cleaning, and there are some tough-to-reach places that only floss can reach.
There's a right and wrong way to floss. Here are some great tips from the American Dental Association to make sure you're getting the most out of your floss.
Use 18 inches of floss. Wrap most of it around the middle finger of one hand, the rest around your other middle finger.
Grasp the string tightly between your thumb and forefinger, and use a rubbing motion to guide it between teeth.
When the floss reaches the gum line, form a C to follow the shape of the tooth.
Hold the strand firmly against the tooth, and move it gently up and down.
Repeat with the other tooth, and then repeat the entire process with the rest of your teeth.
Use fresh sections of floss as you go.
For those who have smaller mouths with less of a gap between each tooth, floss with wax lining is a good solution. Disposable Y-shaped flossers are also a helpful tool.
Make sure you combine good at-home dental practices with routine checkups. If you don't have a regular dentist or have been putting off a dental checkup; the State of Texas Dental Discount Plan can save big on the care you need and help you find convenient dental care. Visit www.txdentaldiscount.com or call toll-free (844) 377-3368 to find a provider near you!
---