ERS news articles
National Nutrition Month
March 2016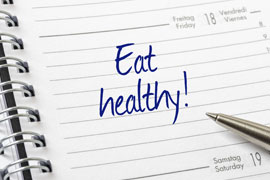 March is National Nutrition Month! Some foods are better than others for maintaining a healthy diet, and the same goes for your teeth.
Here are the best foods to work into your diet for a healthy smile:
Dairy foods like cheese and yogurt have been shown to lower the risk of tooth decay and gum disease.
Leafy greens, especially spinach and kale, contain many vitamins and minerals. They are also rich in calcium, which promotes strong enamel.
The texture of apples helps to scrub away food particles and stimulate the gums. These make for a great, tasty snack that isn't too high in sugar.
Similar to apples, carrots help to clear away leftover food particles. They are also high in fiber and vitamin A.
Almonds are rich in calcium and protein and are another good low-sugar snack.
Green tea has been shown to help prevent tooth decay and promote healthier gums. This is also a great caffeine alternative to coffee!
---