ERS news articles
Healthy Mouth, Healthy You
July 2016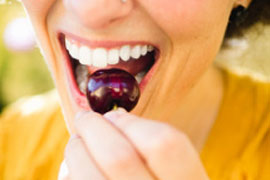 Need another reason to take care of your mouth other than the possibility of cavities and discolored teeth? This may be it: poor oral care can affect your entire body and can even cause weight gain, diabetes and a few types of cancer.
What's the link between a lacking oral care regimen - which can lead to oral infections such as gum disease - and serious health complications?
The answer is bacteria entering the bloodstream through gaps around the teeth.
Each tooth has a bundle of fibers around it keeping the gums firmly pressed against the tooth, creating a seal. If that seal becomes weakened by infection in the gums and the gums start to pull away from the teeth, bacteria then can go anywhere in the body it chooses.
As mentioned above, bacteria roaming free throughout your body could spell out some rather serious consequences, anything from weight gain and irritable bowel syndrome (IBS) to things far more serious, from Alzheimer's and dementia to breast cancer, bacterial pneumonia, low birth weight and premature birth.
Fortunately, it's easy to keep your teeth healthy and nasty bacteria out of your bloodstream with these tips:
Floss and brush after meals: Many people brush but don't floss. Flossing gives you better breath and healthier gums.
Regular dental appointments: While we can think of many things that are more fun than going to the dentist, regular checkups are extremely important as dentists remove tartar and plaque buildup and can catch and stop things like gum disease. While gum disease can't be reversed, it can be stopped if it's caught soon enough.
Remineralize: That's a fancy way of saying "watch what you eat." While most people know that sugar is bad for the teeth, what about bread, saltine crackers, processed foods (think macaroni and cheese), cereals and oatmeal? These foods promote demineralization (the process of losing minerals), while foods such as apples, eggs, celery, grass-fed meats and poultry and green tea promote remineralization, which is the process of gaining minerals. As long as teeth gain minerals faster than they lose minerals, your smile can defend against cavities.
With these tips, you're a step in the right direction of keeping your teeth clean and healthy. The State of Texas Dental Discount Plan can make it even easier and help you save on your next dental bill. Visit www.txdentaldiscount.com/search.html or call toll-free (844) 377-3368 to find a provider near you!
---