ERS news articles
Teeth Grinding
February 2017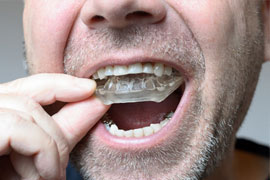 Do you often have a sore jaw or sore teeth? You could be suffering from teeth grinding.
Teeth grinding, also known as bruxism, includes jaw clenching. Teeth grinding can cause teeth to become painful or loose, and teeth can literally be ground away. If you have this problem, eventually surrounding bone and gum tissue can be destroyed leading to jaw problems.
For many people, teeth grinding is an unconscious habit. The most common causes are stress, anxiety, smoking, caffeine and sleeping disorders.
So how can you stop grinding your teeth? It's best to consult your dentist to help develop a specialized treatment plan. Night guards or a professionally made mouth guard can help prevent some grinding. By addressing and treating bruxism early, you can prevent extensive damage to your teeth.
Remember: The State of Texas Dental Discount Plan is not dental insurance. This discount plan allows you to pay a discounted fee at the time of service when you visit a participating network dentist. The State of Texas Dental Discount Plan can be used for routine and preventive care, specialty treatment and cosmetic services such as braces for children and adults, as well as teeth whitening. There are no limits on plan use, and savings start as soon as your plan takes effect.
We're here to help! Our Customer Care team is ready to answer your questions about the plan, network access, and plan member savings. Call toll-free at (844) 377-3368 for assistance, or click here to search for a provider near you.
---