ERS news articles
A Healthy Mouth for the Holidays
December 2016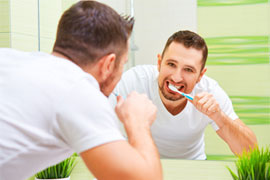 The holidays are here, which means an abundance of football, food and everyone's favorite - sugar. There's sure to be no shortage of sweets in the upcoming weeks. However, all of that sugary goodness can wreak havoc on your teeth since sugar causes cavities, which is why it's so important to utilize the oral hygiene trifecta: brushing, flossing and mouthwash.
Taking care of your teeth shouldn't be a once-a-year occurrence. You should definitely pay extra attention to your teeth over the holidays.
The first part of the trifecta is brushing at least twice a day. Brushing is the main line of defense against bad breath, plaque and gum disease. For maximum effectiveness, remember to brush in circles and scrub your teeth.
Brushing should be followed by flossing at least twice a day as well. While brushing removes the plaque and food from the surface of your teeth, it can't remove the plaque and food caught between your teeth. Does it matter which order you brush and floss? No, as long as both are done thoroughly.
The last component in our oral health trifecta is mouthwash. While mouthwash is not a substitute for regular brushing and flossing, it is a great addition to your normal oral care routine since it prevents cavities from forming, strengthens enamel (only in mouthwashes with fluoride), prevents plaque build-up and freshens breath. When selecting a mouthwash, pick one that doesn't contain alcohol since alcohol dries out your mouth, causing it to become more prone to cavities. Mouthwash continues to work long after you spit it out, so don't rinse your mouth with water immediately after using it. Rinsing dilutes the cleaning and strengthening properties in the mouthwash.
This holiday season don't sacrifice your feast to protect your pearly whites. Just use the products mentioned and enjoy!
Remember: The State of Texas Dental Discount Plan is not dental insurance. This discount plan allows you to pay a discounted fee at the time of service when you visit a participating network dentist. The State of Texas Dental Discount Plan can be used on routine and preventive care, specialty treatment and even cosmetic services such as braces for children and adults, as well as teeth whitening. There are no limits on plan use, and savings start as soon as your plan is effective.
Plus, we're here to help! Careington's Customer Care team is ready to answer your questions about the plan, network access, and plan member savings. Call toll-free at (844) 377-3368 for assistance, or click here to search for a provider near you.
---