ERS news articles
Tips for a Healthy Holiday Season
December 2015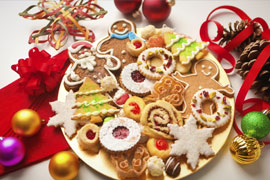 After a full holiday season of sweets and treats, your teeth need all the TLC they can get. Here are some tips to keep your teeth healthy through the holidays.
Try to avoid chewy sweets - this includes gummy candy and caramel. Sticky foods like this can cling to your enamel and even cause tooth decay. If you head to the dessert table, make sure you stick to foods that won't be as hard on your teeth, like dark chocolate and sugarless candy.
With many families traveling for the holidays, it may be helpful to put together a travel kit with a small toothbrush, toothpaste, floss and mouthwash. You'll have everything you need to keep your smile healthy in between meals, even on the road or at the relatives' house.
Last but not least, make sure you're still brushing twice a day! Between the leftover Halloween candy and holiday desserts, a healthy and consistent daily routine is essential. And don't forget to floss daily!
If you decide to fit in that last-minute checkup or decide to get a teeth whitening procedure to freshen up your smile, don't forget to enjoy discounts from your State of Texas Dental Discount Plan! Visit www.txdentaldiscount.com/search.html or call (844) 377-3368 to find a provider near you!
---