ERS news articles
Back-to-School Savings
September 2015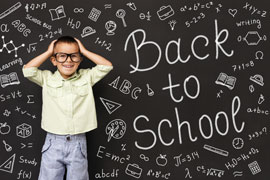 Back-to-school savings don't have to mean just school supplies, backpacks and clothes! Why not also save on dental care for the new school year? A bright, healthy smile is always in style and can do wonders for their confidence.
In addition to having a bright smile to complement their new school wardrobe, a dental checkup or routine cleaning has many other benefits. Our dental health is directly related to our overall health, and a simple checkup can sometimes uncover a health concern early.
Good dental habits at home and two annual visits to the dentist can help prevent tooth decay, which not only prevents other potential health concerns, but can also help improve their productivity in school. Did you know more than 51 million school hours are lost annually due to dental-related illnesses? That's a lot of class time! Tooth decay and tooth pain can even lead to eventual problems with eating, speaking and concentration in class.
So what are you waiting for? Send your kids back to school in style with the best accessory they can have - a bright, healthy smile! The best part is you can save significantly on their cleanings and dental work (and for yourself, too) with the State of Texas Dental Discount Plan.
The State of Texas Dental Discount Plan can help you save 20% to 60% on dental visits and cleanings. You can even save 20% on orthodontic procedures! Call us toll-free at (844) 377-3368 for assistance, or click here to search for a provider near you, schedule your appointment and save.
---
Sources
1http://sagedentalcare.com/back-to-school-dental-checkup