ERS news articles
Floss, or Your Loss.
November 2014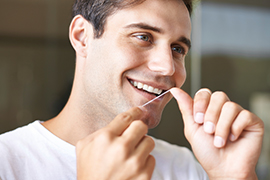 It's 20 minutes before your dental appointment. Do you scramble to scrub your teeth and floss like you've never flossed before?
This is bad for a number of reasons. Your dental hygienist can tell you've just done a flossing boot camp on your teeth. Your, "Yes, I floss once a day," isn't fooling them when your gums are red and irritated. Just brushing alone doesn't do your teeth justice. They deserve better.
All jokes aside, flossing can significantly improve your oral hygiene and help prevent some serious dental issues. It can remove plaque from between teeth, prevent gum disease and even prevent tooth loss.
The red and irritated gums we mentioned earlier are a sign that you may be in the early stages of gingivitis or gum disease. This is all the more reason to floss regularly. Your toothbrush can't do all the cleaning itself, and there are some tough-to-reach places that only floss can get to.
For those who have smaller mouths with less of a gap between each tooth, floss with wax lining is a good solution. Disposable Y-shaped flossers are also a helpful tool that can make the process even easier.
There's a right and wrong way to floss. Here are some great tips from the American Dental Association to make sure you're getting the most out of your floss.
Use 18 inches of floss. Wrap most of it around the middle finger of one hand, the rest around your other middle finger.
Grasp the string tightly between your thumb and forefinger, and use a rubbing motion to guide it between teeth.
When the floss reaches the gum line, form a C to follow the shape of the tooth.
Hold the strand firmly against the tooth, and move it gently up and down.
Repeat with the other tooth, and then repeat the entire process with the rest of your teeth.
Use fresh sections of floss as you go.
Make sure you combine good at-home dental practices with routine checkups. A healthy body starts with a healthy mouth, and many signs of diseases or illnesses can be caught during a dental checkup. The State of Texas Dental Discount PlanSM can help you save on dental care and treatment to help keep your mouth healthy and your wallet happy.
---
1 retrieved 4 October 2014 from www.webmd.com/oral-health/healthy-teeth-14/flossing-floss-sticks