ERS news articles
Dental Health - Did You Know?
June 2014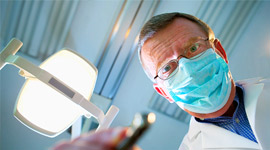 Did you know there is a direct connection between the health of your teeth and gums and the rest of your body? It's true. The need for good dental health goes way beyond the health of your smile. Your oral health directly impacts your overall health. That's why ERS is partnering with Careington to offer you an affordable dental savings option designed to help you save money on routine, preventive and diagnostic dental care. It's the State of Texas Dental Discount Plan, and it's designed to help you save on the dental care that's critical to your overall health.
Detection
Visiting your dentist at least once a year, or the recommended twice a year, should be as important as your annual physical. When you see a dentist for routine and preventive care such as an oral exam, X-rays, and cleanings, it's also an opportunity for your dentist to look for any indications of other conditions that can be diagnosed through signs and symptoms that may be visible in your mouth. In fact, a routine trip to your dentist could help detect signs of these conditions:
Leukemia
Diabetes
Kidney disease
Heart disease
Pancreatic cancer
Oral cancer
Prevention
Beyond the health benefits of routine trips to the dentist to help watch for early indications of these conditions and more, proper oral hygiene can actually help prevent other health concerns. Consistent brushing and flossing using the proper dentist-taught techniques, following a healthy teeth-friendly diet, and visiting your dentist regularly to maintain your dental health, are all an important part of helping to prevent infection in major organs like your heart, and in keeping your digestive system healthy.
Savings
We understand that it's costly to maintain your dental health. But we also understand it can be more costly if you don't. The State of Texas Dental Discount Plan will help you save money on quality dental care that can help you improve your oral health and aid in detection and prevention of other serious health issues. We encourage you to never underestimate the impact your dental health has on overall health and well-being, and we hope you'll take advantage of significant savings on the care of your mouth, teeth and gums with the State of Texas Dental Discount Plan.
---